click on the links above to view and order your Certificates & Citations
All documents for sale on this web site have been designed to commemorate your military service
these documents are unofficial, and are Not Approved by the U. S. Government for any Official Use
The present Turn-Around Time is 1 Business Day
Your order will go out via First Class Mail on the 1st business day after your order is placed
if the turn-around time should change, we will post it here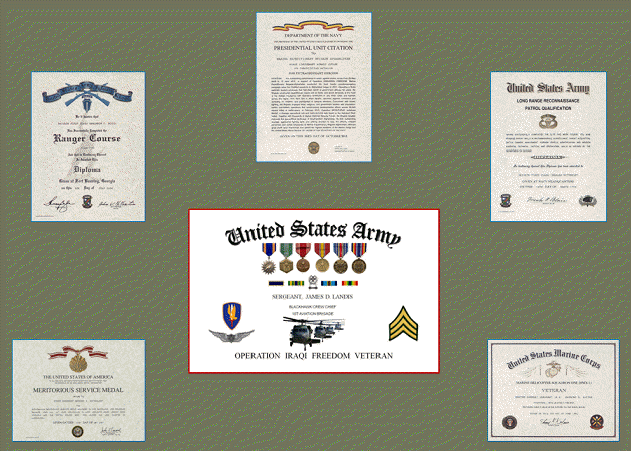 Our Military Awards & Training Certificates are artistic renderings of my own creation, We retain all copyrights, any commercial use must be approved prior to its use.
It is not our intent to propagate fraud, our documents are unofficial artistic renderings and are intended for your personal use. These Certificates may not be entered into your SRB, if you use these documents for official purposes or present for official use any certificate that you did not earn, you are in violation of Federal Laws and therefore subject to prosecution under Title 18 US Code, --- and the Government takes the law vary seriously, I know, in 2012 I found myself on the wrong side of a Federal Courtroom and it cost me 2 years of my time. As a result I had to make some changes to both the web site and all or most of our certificates.
All our documents are printed using waterproof ink on a single pass offset printer, unlike inkjet and laser printers which spray ink onto the page, Offset Printers lay the image onto a drum, when the paper rolls over the drum it picks up the image. The end result is a crisp, raised ink image, that will never bleed or (fade providing that you do not display in direct sun light).
I started this business virtually by accident, a little over 12 years ago. I unfortunately lost my original Bronze Star and Purple Heart certificates in a tornado in Florida back in 1992. When I petitioned the Navy Department for replacements I was informed that the Government no longer replaces the related Documents, only the Medals. I had training in graphics publishing, so I decided to re-create my lost Documents. With a lot of trial and error, we have evolved to where we are today.
I am also proud to have had the opportunity to produce the Certificates that you see periodically displayed on the CBS series "The Unit" , The Lifetime series "Army Wives" The Movies "Men who View Goats, and the remake of the "The Manchurian Candidate".
My Personal Guarantee:
When you receive your certificates, check them over closely for correct spelling of your name and any other personal info. It doesn't happen often, but occasionally we do make a mistake, and in this event, we will replace your certificate at no additional charge.
Also, if your Certificates are damaged by the Post Office during delivery, contact us and we will replace them at no charge.
Semper Fi, (Always Faithful)
Bob Neener
Created by by: Bob Neener, Golf 2/9 - Lima 3/3 - Vietnam 1965 1966 - USMC, Disabled Combat Veteran